Thoroughly Modern Dorothy...
You Guys!
We are coming up to Tech Week for Thoroughly Modern Millie at Titusville Playhouse. I feel so ready for people to be out there watching us, yet also terrified & not ready at all.
Oh, the Joys of Showbiz! 
The Nutty Cracker Dance is NO JOKE. It is so quick & fun & stylized to the 20s...BUT if you miss one count you are basically screwed. It has been YEARS since I've truly danced in a show...I realized this because I was out of breath after one run through. However, with each run it gets easier to sing & dance at the same time....what do they think this is, a musical?!
( I just laughed out loud writing that.....I hope you did too)  
I don't think I knew how BadAss the dance break for "Ah! Sweet Mystery" was. I'm being lifted all over the place.......which is another thing that hasn't happened in YEARS. I had to have all the technical aspects broken down by the choreographer so I was helping my dance partner lift me & not just giving him dead weight. I am sure he is thankful for that. I'll try to get a picture of one of the lifts at tonight's rehearsal to tease on my instagram account. 
Until then, here is some graceful partner inspiration.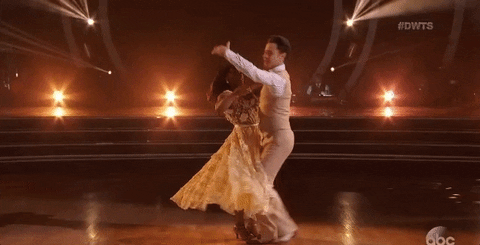 Please reload